Are you on the lookout for a top-of-the-line hedge trimmer? Then you are in the right place. When you wish to give your garden a needed makeover and trim hedges or solitary shrubs, nothing beats a good quality hedge trimmer. This gardening tool is the perfect addition to helping you achieve the landscape of your dreams. As you evaluate your options and help you in the right direction, we'll be telling you all about the sought-after Black and Decker hedge trimmer.
Whether you are new to the hedge trimmer world or are looking to replace the one you currently have, you should aim your search to the top brands, including Black and Decker models, which rank among the top names.
If you consider yourself an avid gardener or wish to become one, a hedge trimmer should become part of your gardening equipment; but you don't want just any hedge trimmer. Putting your money on a quality tool, you know your garden deserves calls for investing in a brand that's well backed up. Continue reading and learn what you need to know about the Black and Decker hedge trimmer.
Black and Decker Hedge Trimmer FAQs
Is the Black and Decker hedge trimmer any good?
Black+Decker is renowned for manufacturing gas-powered and electric gardening tools, yet all the brand's hedge trimmers are electric. The choice of the power source is probably driven by the attempt to fight pollution and global climate change, and the tools are majorly dedicated to residential users.
Hedge Trimmer is a reliable, quick-charging yard maintenance tool that's a lighter alternative to other 40-volt trimmers on the market. Experts say the Black & Decker 40V MAX Lithium 24 in. Hedge Trimmer is better for the environment. They're also more affordable, as they don't incur extra costs for fuel.
How are Black and Decker hedge trimmers classified?
The range includes a series of corded electric hedge trimmers and cordless hedge trimmers powered by different types of batteries.
The corded electric range comprises six power tools. The length of the blade and the features change from one tool to another. Regarding the size of the blade, you'll be able to choose between 16 and 24 inches. In detail, each tool in the range has a blade of a different length which can be 16, 17, 18, 20, 22, or 24 inches.
The range of cordless hedge trimmers includes 11 power tools differentiated by their battery, run-time, and other features. These tools are ideal for all types of residential users. You'll be able to choose a blade length of 6, 18, 22, or 24 inches and three different max cutting capacities.
Cordless hedge trimmers are accessible easy to carry, and for that reason, we gather all the information you need to know about Cordless Hedge Trimmers.
What battery choices are offered by Black and Decker?
Nickel-cadmium batteries are probably the weakest and have long charging times. However, the tools equipped with such batteries are affordable and ideal for budget-conscious homeowners who still want to invest in quality.
Lithium and Lithium-Ion batteries are more powerful and reliable than NiCad. They usually recharge in only a few hours and have extended run times. Nearly all tools powered by these batteries are part of the 20V or 40V MAX system, which uses interchangeable batteries for the brand's different types of power tools.
Which Black and Decker hedge trimmer is best?
Most users agree that the best Black and Decker hedge trimmer is the LHT2436. A 40V MAX Lithium-Ion battery powers this tool; it has a 3/4 inches cutting capacity and a long 24-inch dual-action blade that helps you trim the hedges quickly and effortlessly.
Do Black and Decker make a 40V pole hedge trimmer?
The BLACK+DECKER LHT2436 Hedge Trimmer has a powerful 40V battery that provides plenty of power and runs time, and can cut branches up to 3/4-inch thick.
How long does it take to charge a Black and Decker hedge trimmer?
The standard charger will charge a fully depleted battery in about 4 hours.
How long does the Black and Decker 20v battery last?
The Black and Decker 20v battery lasts between 5 and 8 hours.
How is the Black & Decker 40V MAX Lithium 24 different from others?
Performance: This Black & Decker hedge trimmer features 24-inch dual-action blades that claim to "produce less vibration while trimming compared to single-action blade models." The 40-volt trimmer was noticeably more powerful and delivered a much cleaner trim. The trimmer lasts for about an hour before requiring a recharge.
Ergonomics and Lightweight: Comfort is always top of mind when looking for gardening tools. At 7 pounds, this trimmer is much lighter and thus easier to use over a prolonged period of time when compared to the 11.9-pound DeWalt 40-volt trimmer; you can read more about Dewalt Hedge Trimmers from our article about this great tool.
Blades: The blades are made of rust-resistant stainless steel, which purportedly stays sharper longer.
The trimmer can cut branches up to 3/4-inch in diameter.
Battery: According to Black and Decker, the 40-volt lithium-ion battery charges in an hour. The battery features an LED charge indicator light, with one light indicating a low battery and three green lights indicating a fully charged battery.
Noise Level: As expected of any motor-powered trimming device with moving blades, Black & Decker's 40-volt cordless trimmer does produce noise during use. Like most people who are gardening during the day.
What to keep in mind before choosing a Black and Decker hedge trimmer?
Type
Electric models are recommended for small properties and few fixed obstacles in the yard. The main advantage is that you'll have unlimited power, and you'll be able to trim the hedges at your own pace.
If you'd instead move freely than trim for as long as you like in a single session, a cordless tool is more appropriate. The main downside of these hedge trimmers is the run-time.
Battery
If you've decided to go with a cordless model, the battery in the package is another thing to consider. Your choices are NiCad, Lithium, or Li-Ion. The main advantage of Lithium MAX batteries is that they are interchangeable. This means that you already own a Black+Decker power tool equipped with a similar battery.
Blade
All Black and Decker hedge trimmers are equipped with dual action blades, but the difference is in the length of the blade and the maximum cutting capacity.
Cutting Capacity
The cutting capacities also vary from tool to tool. The cutting capacities vary between 7/16 inches and 3/4 inches.
Black and Decker Hedge Trimmer Options
Offering BLACK+DECKER's exclusive PowerDrive Transmission, the 24-inch cordless LHT2436 dual-action hedge trimmer delivers more power from the motor to the blades so you can get the job done faster.
It's powered by BLACK+DECKER's high-powered 40-volt lithium battery system, which offers power, excellent run-time, and the versatility to share batteries with other tools within the system.
Tackle tough trimming jobs with a battery hedge trimmer that can help you get done fast. A 40V MAX* battery delivers power and run-time.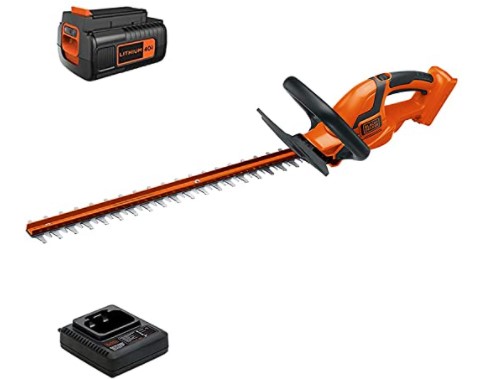 Features:
Battery Powered
6.9 Pounds
24-inch dual-action blades
The powerful 20V lithium-ion battery of the cordless hedge trimmer delivers power and run-time for most trimming jobs.
22-inch dual-action blades of the battery-powered hedge trimmer cut branches with up to 40% less vibration than single action blades.
Trimmers for plants quickly cut branches up to 3/4-inch thick. The wrap-around front handle provides comfort and control in vertical and horizontal trimming applications.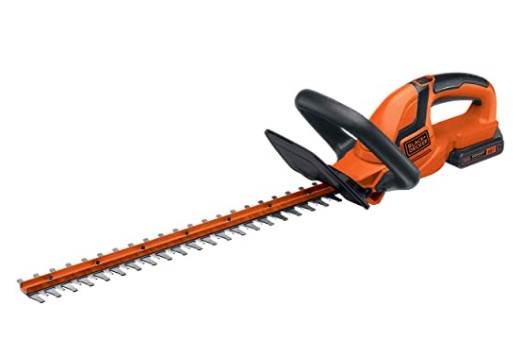 Features:
Powerful 20V lithium-ion battery
22-inch dual-action blades
Wrap-around front handle
The BLACK+DECKER HT22 22-inch hedge trimmer has a powerful 4.0-amp motor for superior cutting performance and 22-inch dual-action blades that cut branches faster and easier with 40-percent less vibration for user comfort.
This trimmer can be used for cutting branches up to 3/4 inches in diameter and is ideal for trimming formal hedges of all configurations.
Safety has a lock-off switch that prevents accidental starting and soft grips for comfortable use and secure gripping for the user.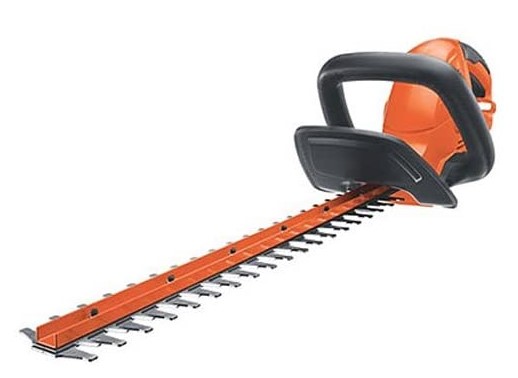 Features:
Corded Electric
Rust-resistant steel blades
22-inch dual-action blade
With the V20* 8 in. Cordless Pole Saw, you can take on tall trees with ease. They are designed for maximum maneuverability.
This cordless pole saw features a lightweight, adjustable fiberglass pole with an overhead reach of up to 14 ft., an in-line powerhead for excellent visibility, and an eight in. bar and chain for clean cuts on branches up to 6 in. in diameter.
Lightweight fiberglass pole with center extension adjusts from 6.5 ft. to 10 ft. for an impressive overhead reach of 14 ft.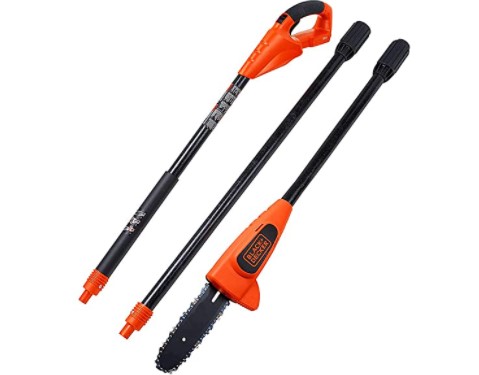 Features:
Battery Powered
The overhead reach of up to 14 feet
8 Inches Blade Lenght
Lightweight and portable, the 22 in. Cordless Hedge Trimmer makes quick work of cutting back shrubs, hedges, and bushes without skimping on your comfort.
The dual-action blade easily cuts branches up to 3/4 in. thick while keeping vibration to a minimum.
It lets you make vertical and horizontal cuts comfortably. Cordless hedge and shrub trimmer with dual-action blade cut 2x more branches simultaneously.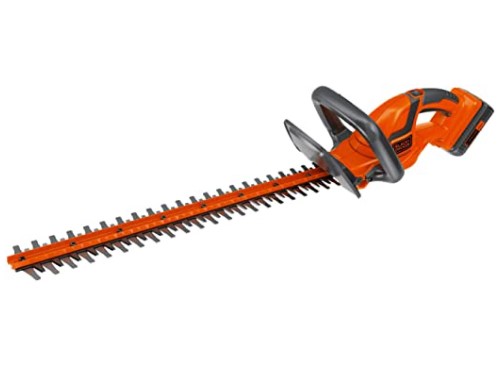 Features:
Battery Powered
Dual-Action Blade
Easy to Use