Are you on the lookout for a good hedge trimmer? We hear you. Nothing beats a trusty hedge trimmer when you wish to trim hedges or solitary shrubs. This gardening tool is the perfect addition to help you keep your garden looking sharp. As you evaluate your options and to help you in the right direction, we'll be telling you all about the gas hedge trimmer.
If you consider yourself an avid gardener or wish to become one, a hedge trimmer is an essential tool that should be part of your gardening equipment. As you navigate the world of hedge trimmers, you'll find that you can choose between electric and gas models. Today we'll be telling you everything you need to know about the latter; however, if you want to read more about electric hedge trimmers, then read our article about them.
Both experts and home gardeners utilize gas hedge trimmers; these tools are pretty efficient and get the job done. But with numerous brands and features to keep in mind, choosing the suitable model for your landscape may seem a bit challenging. Continue reading and learn what you need to know about the gas hedge trimmer, and feel free to choose any of the options that will certainly meet your requirements.
Gas Hedge Trimmer FAQs
What is a gas hedge trimmer?
Hedge trimmers are power tools with coarsely toothed, reciprocating blades designed to trim hedges, bushes, shrubs, and small branches. They can be electric or gas-powered.
Are gas hedge trimmers more powerful than electric or battery-powered ones?
A gas hedge trimmer is typically more powerful than an electric model. Since these devices rely on electric power, they simply do not provide the same performance abilities as a gas option. This makes them more suitable for smaller yards and less heavy branches.
What kind of oil do I need to use with a gas hedge trimmer?
Gas hedge trimmers, like gas chainsaws and line trimmers, take two-stroke (also referred to as two-cycle) engine oil. Gas hedge trimmer fuel typically consists of 3.2 ounces of two-stroke oil mixed with a gallon of gas. Check the owner's manual for the correct fuel ratio.
Are STIHL gas hedge trimmers any good?
The Stihl HSA 56 hedge trimmer cuts efficiently, is light and easy to use and comes with a two-year warranty. Experts think it's excellent value for money. The Stihl hedge trimmer is undoubtedly a great choice; however, if you want to find more about it, we suggest you take a look at our article on the Stihl Hedge Trimmer.
How long can a gas trimmer run on a full tank?
A gas trimmer can run for about an hour on a full tank of gas, depending on use. Remember that hedge trimmers with larger engines will burn through gas more quickly than those with smaller engines.
How do you use a gas hedge trimmer?
To start a gas trimmer, begin by priming the bulb on the gas tank. This will pump gas into the carburetor to start more quickly.
Find the choke lever and set it to "choke." The choke limits the amount of air intake into the engine, which allows a cold engine to start more easily.
Holding the hedge trimmer on the ground, pull the start cord until the engine starts. Then move the choke lever to "run."
How to care for a gas hedge trimmer?
Store the hedge trimmer in a clean, dry place protected from rain and moisture. If the trimmer is in storage for the season, add a fuel stabilizer to the gas tank to prevent deposits from forming in the carburetor that can prevent it from starting in the spring.
What factors to consider when buying a gas hedge trimmer?
Blade Length and Teeth Spacing
Trimmers have teeth on both sides, allowing the user to cut by waving the trimmer back and forth instead of using single strokes.
Trimmer blades range in length from 18 inches to 20 inches. A longer trimmer blade allows the user to cut more plant material with each pass of the trimmer. It also allows for more precise cuts, which is crucial when trimming boxwood hedges to a specific shape.
Engine Speed and Power
The power of a gas trimmer comes from the speed of its engine, which is measured in cubic centimeters of air and fuel displaced by the engine. The higher the number of cubic centimeters (ccs), the more powerful the engine. Most gas-powered trimmer engines range between 21cc and 25cc.
Fuel Capacity
Fuel capacity determines how long the trimmer can run before requiring a refill. Capacity is significant when undertaking bigger yard maintenance efforts in which delays for refueling may slow down the job.
Weight
Weight has a significant impact on the trimmer's usability. A heavy trimmer can be challenging to lift and maneuver; most gas trimmers range in weight between 10 and 14 pounds.
Safety
Hedge trimmers are potentially dangerous; as such many come with safety features designed to minimize the risk of injury. Most trimmers require the user to hold down a trigger built into the handle to engage the blade. The blade automatically shuts off if the trimmer slips out of the user's hands.
Gas Hedge Trimmer Options
The Senix HT4QL-L Hedge trimmer features a 4-cycle engine that does not require mixing gas and oil.
It is lightweight and powerful for trimming, shaping, sculpting trees, shrubs, and hedges. The precision laser cut 22 in. dual-action blades cut branches up to 1 in.
Features a 26.5 cc 4QL 4-cycle full crank engine for low vibration and no mixing of gas and oil.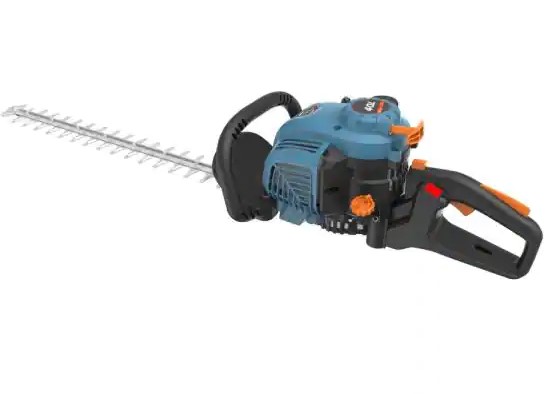 Features:
Dual-Action Blades
1 in. Cutting Capacity
Swiveling Rear Handle
The TB25HT gas hedge trimmer features a 25 cc, 2-cycle lightweight engine that is comfortable for everyone. It comes with double-sided 22 in. blades with 7/16 in. cutting capacity.
Spring Assist technology allows for easier pull starts, while the Prime, Flip and Go starting system allows easy starting. The articulating head lets you lock the hedge trimmers blade from 0° to 135° and cut at many different angles.
The durable die-cast design allows heavy-duty use, while the multi-position adjustable handle reduces vibration and operator fatigue.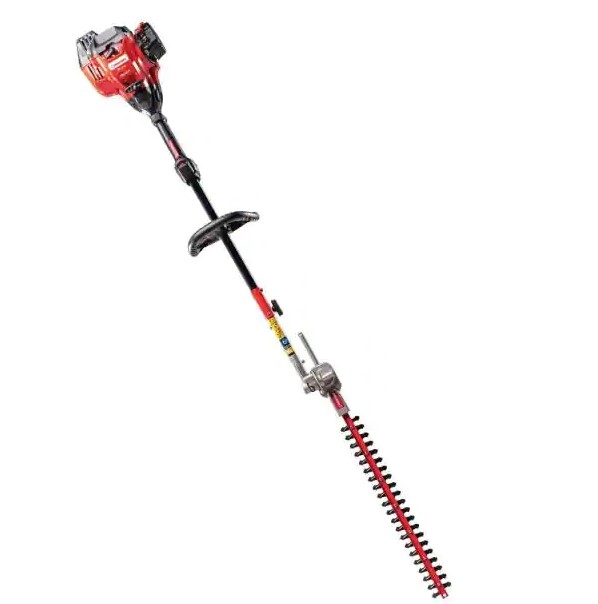 Features:
25 cc, Lightweight 2-cycle Engine
Spring Assist Technology
Double Sided 22 Blades
The Husqvarna 122HD45 is low noise and light weight hedge trimmer for homeowner use with easy-to-use functions such as Smart Start. This double-sided hedge trimmer is a lightweight, easy-to-use model that's perfect for the homeowner with a job to do.
The engine and starter have been designed, so the machine starts quickly with minimum effort.
Beyond the unit's lighter weight, its built-in vibration dampeners absorb excess vibrations, reducing stress on your arms and hands. It's the streamlined tool you need to cut perfect hedges every time.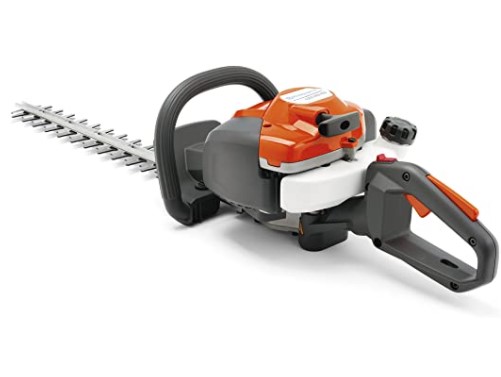 Features:
12.5 Pounds
LowVib Anti-Vibration
Low Noise Engine Design
No overgrown hedge is too tough for the all-new Poulan Pro PR2322 gas-powered hedge trimmer. Equipped with a 23cc, full-crank, two-cycle engine, it's powerful, easy to use, and perfect for trimming all sorts of shrubs and hedges around the yard.
Featuring durable, stainless steel, dual-sided serrated blades, it cuts limbs up to 1″ in diameter in swaths up to 22″.
This lightweight trimmer features advanced anti-vibration technology for superior comfort and reduced fatigue, as well as a rotating rear handle with a comfort grip for controlled cutting at any angle or orientation.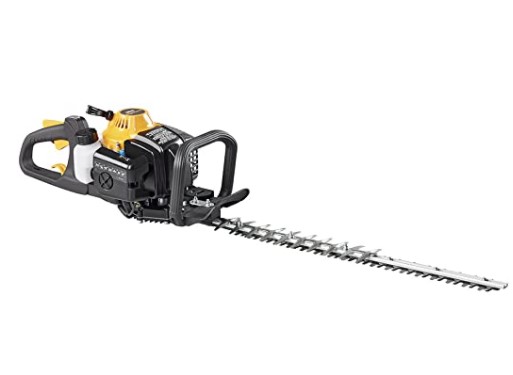 Features:
Stainless Steel
Powerful 23cc 2 Cycle Full Crank Engine
Lightweight
Groom your garden with the swift convenience of this 21 in. 2-Stroke Cycle Hedge Trimmer. It's easy to start and boasts vibration reduction to enhance user comfort.
This yard care tool is powered by a 21.2 cc gas engine that powers through tough, large jobs. The double-reciprocating RazorEdge blades provide lasting sharpness, so you can enjoy clean, efficient cuts for seasons to come. Does the ECHO Hedge Trimmer catch your eye? Read everything you need to know about this hedge trimmer.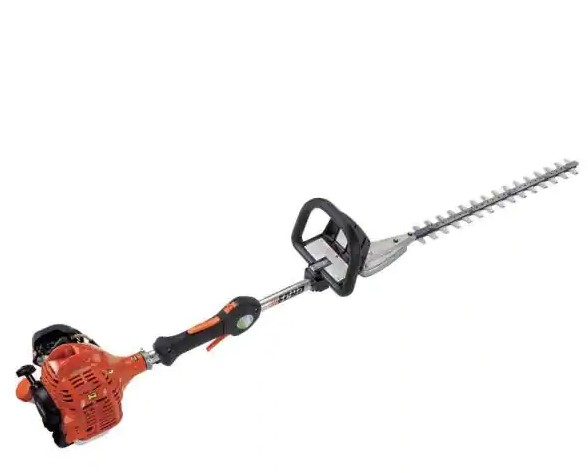 Features:
Double-Sided Razor Edge Blades
2-Stroke Gas Engine
Throttle Handle