So you've been feeling cool using your hedge trimmer, trimming away hedges and solitary shrubs, and making your garden your neighbors' envy. Good for you! But did you know you can take your landscape to the next level with hedge trimmer attachments? That's right, your hedge trimmer is so much more and can help your landscape on point. This is why today, we'll be sharing with you all about hedge trimmer attachment options.
If you consider yourself an avid gardener or wish to become one, a hedge trimmer should become part of your gardening equipment. You can add new functionality to this already useful tool by adding in several attachments.
If you want to get a quality tool you know your garden deserves, you may want to invest in these extra parts. How do you know which attachment will suit you best with many models in the market? Keep reading and learn what you need to know about some of the most popular hedge trimmer attachment options to make your job that much easier.
Hedge Trimmer Attachment FAQs
What is a capable attachment trimmer?
Attachment-capable trimmers enable you to use the same engine to power all of these tools. This way, you can save space and money while minimizing maintenance tasks.
What is the best hedge trimmer attachment brand?
Reliable brands on the market include Craftsman, Stihl, Echo, Ryobi, and Milwaukee. Each of these companies is known for producing high-quality lawn and garden products. Speaking of the Milwaukee Hedge Trimmer, how about reading more about this magnificent tool?
Are all hedge trimmer attachments universal?
Some attachments are made to fit on a specific brand or model of a trimmer, while others are more universal and can be adapted to various trimmers. Some attachments work for trimmers, pole saws, chainsaws, or drills.
What do you use a hedge trimmer attachment for?
The size and features of a hedge trimmer attachment affect the type of cuts you can make with it. Each attachment may offer a variety of different uses. There are two types of blades available for hedge trimmer attachments, single and double blades.
Single blades are helpful for smaller trimming tasks, while doubles work best for heavy-duty hedges with larger diameter branches. They also come in various lengths, with longer attachments used to trim hedges with greater width.
Some attachments offer precision cutting to achieve certain design effects. If you have specific cutting goals, look for a blade that will be the most useful for that purpose.
Typically, you'll be able to take on the thickets, hedges, and hard-to-reach areas with a hedge trimmer attachment.
Are all hedge trimmer attachments compatible?
One of the most important considerations to make before you purchase a hedge trimmer attachment is to make sure that it is compatible with the device you plan to use. Ensure that the attachment is made to fit the brand, type, and model of trimmer or other appliances you have.
What to look for in a hedge trimmer attachment?
Blade length: The length of the blade will allow you to reach tough spots with ease. The extra reach means a lot less ladder work or none at all. That is good for your nerves and your back.
Blade angle: The blade angle will provide quick, clean trimming and sculpting.
Compatibility: Check for compatibility with your current equipment or the one you plan to get.
Storage: Some brands offer an offset gear case to space between you and your hedges.
Safety Features: Most models offer come with a tip guard and aluminum support bar to protect the cutting surface.
How to install a hedge trimmer attachment?
Remove spark plug; wear protective gloves and empty fuel tank to avoid accidents. Turn the engine upside down and open the gear case cover.
Remove blade mounting boards and washers, remove outer spar gear and spacer plate, and take the blades.
Position the inner spar gear so that the holes are aligned. Align the upper blade and replace the spacer plate on top of it. Replace outer spar gear.
Adjust the lower blade, seal and realign the cover, and secure it with screws.
Thread the bolts into the blades, realign the blade guards, and attach them with a screw. Thread the nuts and bolts and attach the tip guard.
Hedge Trimmer Attachment Options
The EGO 20″ Hedge Trimmer attachment is part of the EGO POWER+ Multi-Head System.
They are designed for convenient and efficient trimming.
The dual-action blades cut an industry-leading 1″ cut capacity! The 20″ steel blades ensure durability and longevity, while the 12-position articulation allows you to cut at any angle.
EGO attachments are designed specifically for your EGO POWER+ Power Head (PH1400) and offer the highest quality and performance.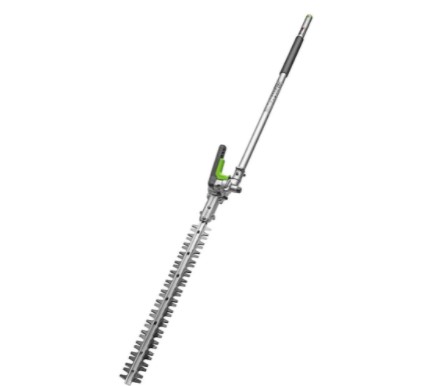 Features:
20″ Hedge Trimmer
1″ Cut Capacity
Water-resistant construction
The Sunseeker MFT26I Hedge Trimmer Attachment is a 15-inch, articulated hedge trimmer that works with most brands of attachment-capable trimmers.
The 12-position articulating head allows you to adjust the blade angle to fit different hedge shapes and trim hard-to-reach places. The 15-inch Dual-action blade delivers powerful trimming with a 3/4-inch cutting capacity to tackle any hedge, big or small.
This hedge trimmer attachment can be used with Sunseeker, Ryobi, Toro, Craftsman, and Troy Bilt units. Tool-free attachment allows you to switch between this and other capable Sunseeker attachments easily. Ryobi hedge trimmers are top-rated, and a brand that experienced and amateur gardeners like very much; want to know why? Read everything you need to know about the Ryobi Hedge Trimmer.
Features:
12-position Articulating Head
Dual-action Blade
Compatible
Connect the hedge trimmer attachment to any Snapper xd 82V Max string trimmer to trim bushes or other landscape elements easily.
The 90 Degree pivoting trim head makes it easy & safe to cut hard-to-reach areas.
Hedge Trimmer Attachment with a pivoting head, compatible with Snapper XD String Trimmer.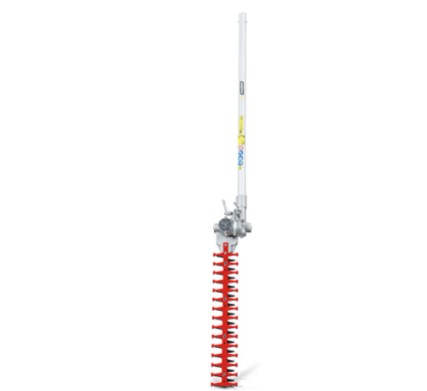 Features:
17″ Steel Dual-action Blade
90 Degree pivoting head
Connect the Hedge trimmer Attachment to any Snapper xd 82V max string trimmer
The AH721 hedge trimmer attaches to your attachment-capable string trimmer with no tools. With 22-inch dual-action blades and an articulating head for easy reach, this trimmer lets you easily maintain your hedges.
Connects to all attachment-capable Troy-Bilt, Remington, Yard Machines, Craftsman, Bolens, Hyper Tough, Snapper, and Cub Cadet string trimmer powerheads that accept TrimmerPlus® attachments.
Provides blades with a large span of movement and can cut at many different angles.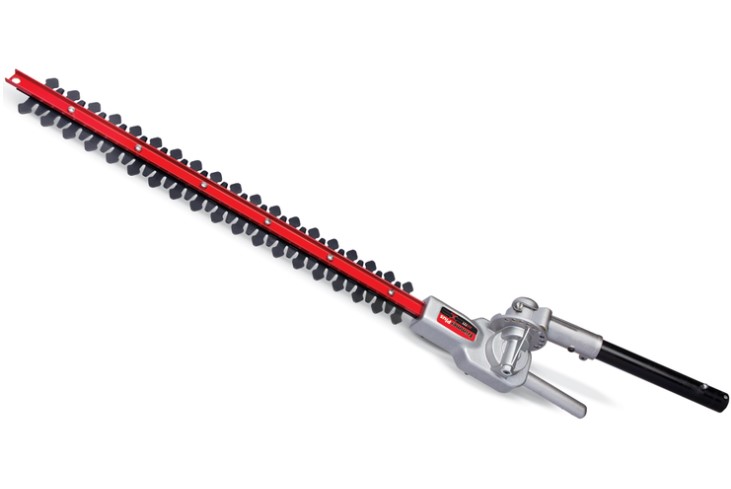 Features:
Dual-Action Blades
Articulating Head
22-inch
The Pole Hedge Trimmer Head is compatible with the 20V MAX* Pole Hedge Trimmer (DCPH820) and 20V MAX* Pole Saw (DCPS620).
The trimmer head is designed to cut through various landscape overgrowth with 22″ hardened steel laser-cut blades engineered for clean, fast cuts on branches up to 1 inch thick.
The 7-position 180 degrees articulating head allows you to customize cutting angles for any shape and size hedges.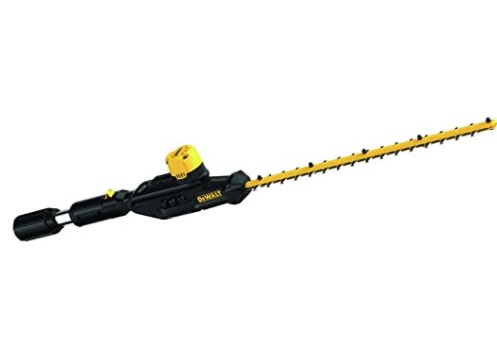 Features:
Battery Powered
8 Pounds
12 x 4 x 41 inches
The Greenworks 40V system is the most extensive collection of premium lawn tools with up to 25 or more devices on one battery platform.
With a 5/8″ cutting capacity for controlled, easy trimming of most bushes and hedges without the need for multiple tools.
3-multiple position pivoting head adjusts blade for trimming at all angles for a clean, precise, manicured look.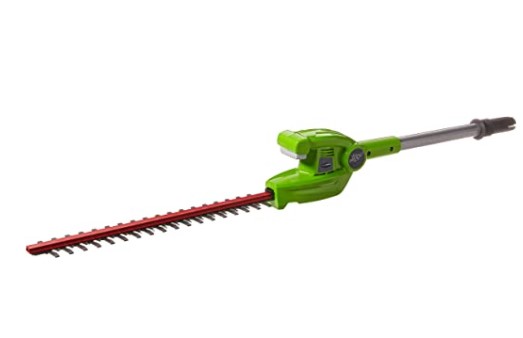 Features:
3-multiple position pivoting head
5/8-Inch cutting capacity
20″ pole hedge trimmer powerhead
The Worx Nitro WA0220 Driveshare 17″ Universal Hedge Trimmer Attachment turns your Worx Nitro 40V String Trimmer into a powerful and versatile hedge trimmer. The cutting head is adjustable with ten positions to choose from, so you can attack from almost any angle.
Dual-action cutting blades slice each branch, twig, and leaf twice, once forward and once back, ensuring an even cut of the hedges, bushes, and low-lying tree branches on your yard or property.
While the ten ft. of maximum reach gained from this attachment lets the user reach up to the tops of tall bushes or the bottom branches of some trees. And at only 4.52 lbs. of added weight, it's easy to hold this Hedge Trimming Attachment up high for some time.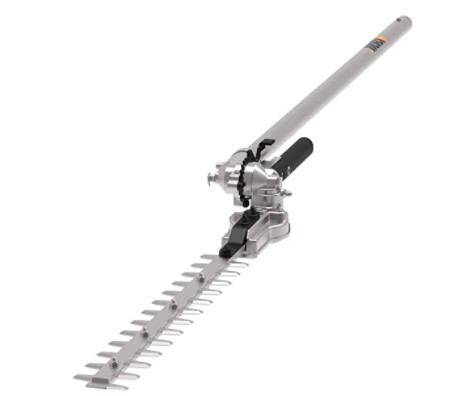 Features:
Battery Powered
Dual-Action Cutting Blades
Universal Compatibility
Now that you learn about trimmer attachments, how does learning how to sharpen, clean, and replace hedge trimmer blades sound?